We get asked all the time: Who is Mortimer Snodgrass? What is Mortimer Snodgrass?
How did you get that name?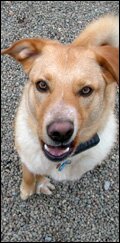 Mortimer is a lovely SPCA mutt, a mix of yellow lab and something we can't quite figure out (we're going with Husky, because of the tail), who was born in the spring of 2001. We got him at the age of 6 months, a few months before opening the store. His name was given to him by Jay's nephew, who for some unknown reason, used to call Jay "Uncle Mortimer".

When we got the dog, Jay's nephew decided Jay could go back to his given name and the dog should be Mortimer. Snodgrass was Jay's idea... As a huge baseball fan, Jay knew of a little known baseball player named Chappy Snodgrass (Baltimore Orioles, 1901).

We had actually picked a completely different name for the store, but were unable to use it because of the resemblance to the name another business, so we decided to go with Mortimer Snodgrass and it was a hit from day one!

When he was a puppy, Mortimer used to love to come to work and greet the customers. But as he got older, his friendly bark scared away some of the younger customers. So Mortimer got a pal, a lab-chow mix named Lucy. Lucy came to join our family through our good friend, .

Lucy would love to come to work everyday, she loves to greet the customers and get a friendly petting, but she loves playing with Mortimer more than anything else, so they both stay home and tire each other out!